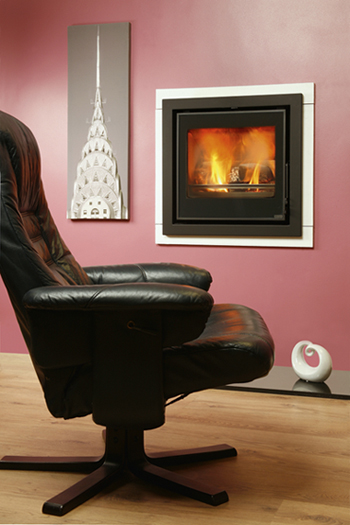 The Serenity 50 6-8kW inset stove features a large contemporary black bordered window and is designed to be mounted either into a hole-in-the-wall situation or can be installed directly onto a fireplace hearth.  Multiple frame options (3 and 4 sided, 50mm and 68mm)) are available ensuring that this stove will look great wherever it is fitted.
A large 16" log can easily be loaded into the stove giving long burn times and a wonderful flame pattern and controllable heat.  Clean burn firebox technology with a full Skamolex lined fire chamber ensures that the stove burns efficiently keeping the glass spotlessly clean and with very little smoke discharge.
The Serenity 50 is a lovely looking stove offering sharp and stylish cutting edge design and providing lovely warm convection and radiant heat from its large firebox.
The stove is designed to burn both wood and smokeless fuel and has the option of a reciprocating grate