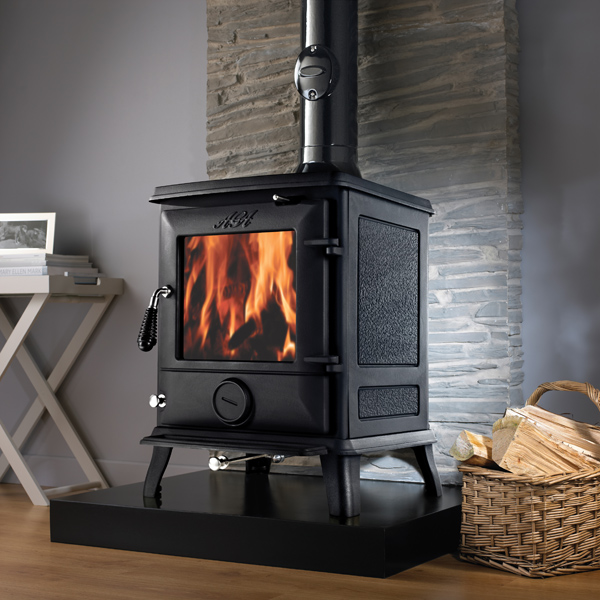 The Ludlow SE is a dedicated smoke exempt version of the highly popular Ludlow stove. The low particulate emissions from the SE model mean that it is fully approved to burn wood in smoke exempt zones, typically associated with urban centres of population.
Equally at home in a traditional or contemporary setting, the Ludlow SE offers understated style, classic design and exquisite detail.
The Ludlow SE is a medium-sized  wood-burning stove. The nominal heat output is 6.5kW from wood, increasing to a maximum of 9.9kW with 76.2% efficiency.
The Ludlow is also available as a multi fuel.
Like all AGA stoves, it benefits from the AGA Active Air Wash System - cutting-edge technology that optimises heat performance, reduces harmful emissions and keeps the stove window clean so you can enjoy the relaxing effect of a real fire.
The beauty of the Ludlow SE stove is in its simplicity. Not only is it easy to use, it is incredibly easy to clean too, thanks to its removable shaker grate, ash pan, fire fence and ash tray. Available in Matt black.
Recommended fuel type: for SE
Dry seasoned wood
Recommended fuel type: for multi fuel
Wood, coal, anthracite and peat briquettes.
Normal Heat Output - Space 6.5 kW Wood
Dimensions 454mm (w) 456mm (d) 588mm (h) 17¾ " (w) 18 " (d) 23 " (h)
Height to centre of rear flue 469mm 18½ "
Flue Outlet Diameter 125mm 5 "
Flue Requirement Class 1 6 "
Wood Log Size (Maximum) 300mm (length) x 100mm (diameter) 11¾ " (length) x 4 " (diameter)