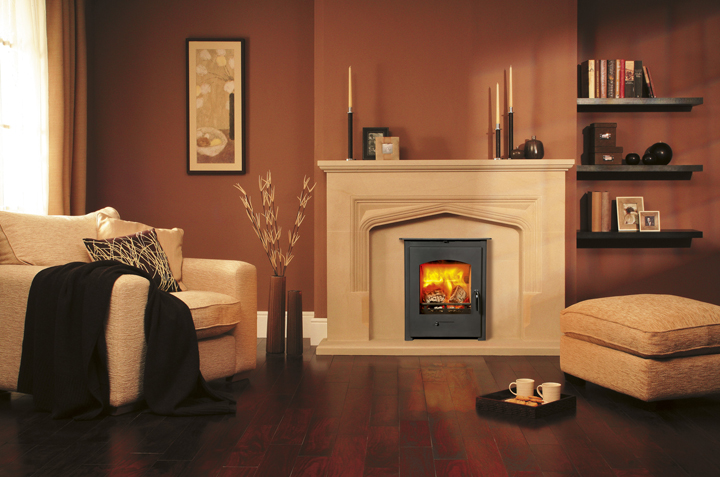 Technical data
Newbourne 60 Convector Inset
Nominal output
7W
Range rating
6-9KW
Flue outlet diameter
Ø125 mm top
Heating area
10-100 m2
Weight
110 kg
Distance to flammable materials 
to furniture
90cm
Width of wood chamber
30cm
Max log length
29cm
Dimension of convection box in mm
529 x 406 x  340mm (HxWxD)
Dimension of front exposed part of stove
606 x 545 x 128mm (HxWxD)
Distance of centre of top flue outlet from rear of stove front
257mm
Colour options
Black
Efficiency when burning wood
78%
Efficiency when burning solid fuel
79%
Can be installed on a 12mm hearth
CE mark, EN13229, Defra approved for smoke control zones
PEVEX 60 CONVECTOR 6-9kW Multifuel Stove
The new Pevex 60 Convector 6-9kW is a high output inset stove
designed to fit into a standard UK 16" x 22" fireplace opening and with a
unique cassette design for easy installation. This stove offers a huge
increase in efficiency over an open fire but will also add a lovely focal
point to the room.
A large fire chamber allows logs up to 13" in length to be loaded. The
wide door with its large glass window allows an uninterrupted view of
the fire burning brightly in the heart of the stove. Built in convection sides
and top plate, ensures maximum heat output from this large efficient
stove.
Features include:
Heavyweight robust construction

Multifuel for burning wood and smokeless fuel

Primary air control and secondary air wash sliders

Side and rear injected tertiary air for improved combustion Vermiculite lined fire chamber for improved efficiency
Our site is not intended to show our full range of products, simply a sample of our product range or items we have in stock all the time. Please phone or visit to discuss our full range of stoves, fires and accessories.We are HETAS registered installers and the only HETAS approved retailer in Chorley, Lancashire.


Enquire Now
[contact-form-7 404 "Not Found"]